In this article, we will teach you how to change the look and feel of your portal. 
The standard layout of your login portal is as follows.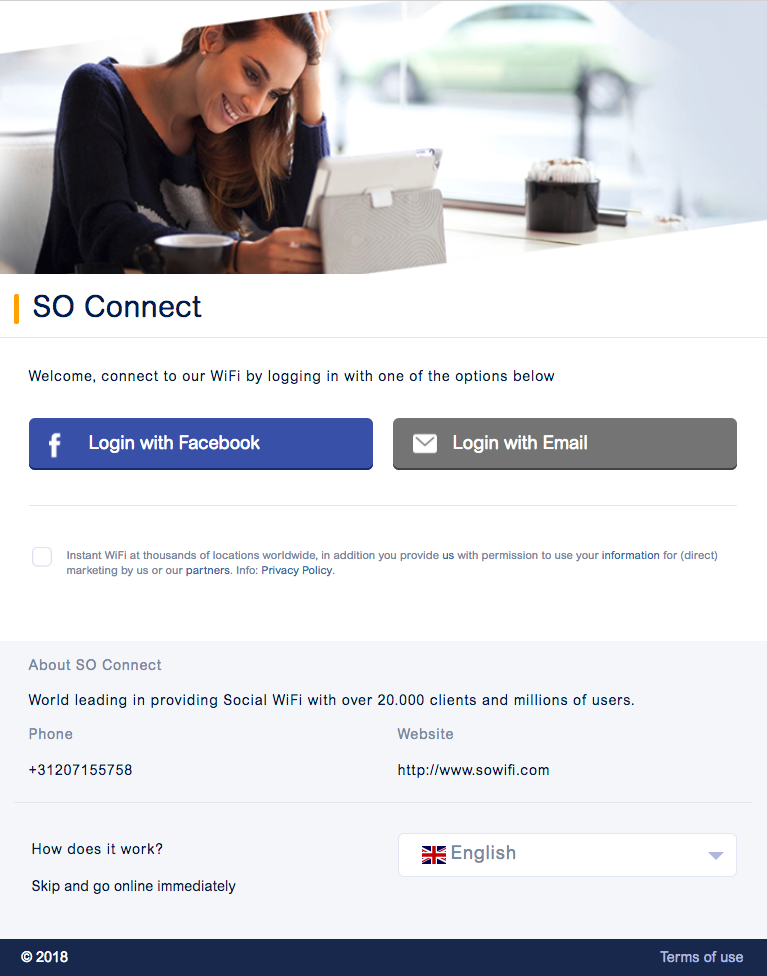 You can easily change your look and feel by following these steps. 
1. Navigate to the gear icon on the left side of your login portal. This will take you to your settings page. 
2. Select the location for which you want to edit the cover photo. If you manage multiple locations, you can easily find it by entering the first two letters of the location name in the search bar. 
3. Select "Timeline Cover" from the top navigation: 

4. Your cover photo will be synched to that of your connected company Facebook page. If you wish to use a custom image, you can select a cover photo here. 
← Minimum width for uploaded image is 768 pixels →
Selecting login options 
Changing the login option is another option that you can customize. 

1. From the same menu as above, select "Social Media" 
2. In order to activate a channel, press the pencil icon next to the field that corresponds with the platform you wish to connect. 
There are two Facebook ID's: One for your company page (Facebook page ID) , and one for your company location. Fill out the  Facebook place id only if you wish to ask people for a "Check-In".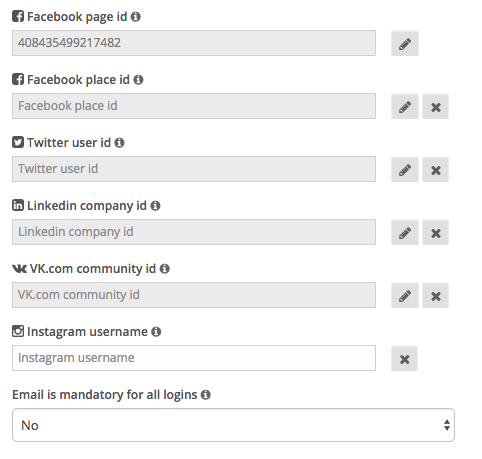 Fill out the ID that corresponds with the platform you wish to connect
3. Fill out the id in the pop-up and Save. The platform is now added. 
Finding your page id's
Facebook Page:
To find your Facebook page ID. First go to your own Facebook page. Then click on "Settings" and continue to "Page Info" and below you see your unique Facebook page ID
Facebook Place:
Go to your specifiek Facebook page place. See your unique URL and copy numbers after the last slash. This is your unique Facebook Place ID. 
Twitter:
Go to your account profile (on the right above sight) and click on "Settings and privacy". Open the sidebar and click on "Your Twitter data". Insert your password and confirm. Now you see your unique ID below your Username.
Linkedin: 
To see what your unique LinkedIn ID is, please go to your LinkedIn page and copy the last six numbers from your URL.
Instagram:

To find out what your Instagram ID is, please go to your Instagram account page and copy your Instagram account name form the URL.