This article is intended for larger locations who collect a lot of visitor information (>1000 logins per month) who have experience with Facebook Advertising.
With SO Connect, there are two ways of retargeting your visitors. One is via your customer data export, and one by sending your visitors to a web page that is equipped with a Retargeting Pixel. The second variation will work best when lots of your guests use the "Skip Login" option. Another benefit of the second method is that it requires setting it up only once. A benefit of the first method is that you can use your historical data.
"WIFI Marketing" helps you collect plenty of customer data. Besides using your data inside our dashboard to send custom messages or sending review request, you may utilize it to show facebook ads to your guests.
Why Facebook ads to promote your restaurant?
Facebook is hands down the number one social media channel in the world. Your customers are there in the largest concentration out of any other social channel. And the vast majority of your customers access Facebook multiple times per day of which the majority are accessing via their mobile phone­.
You can forget about the Facebook posts you put up on your restaurant's Facebook page.
Almost nobody sees those posts as Facebook has reduced your exposure to only 2% of your fan base – if you had 1,000 fans, you would reach maybe 20 people at best. While fans remain extremely important for giving your business credibility, for organizing events at your venue, or to respond to questions from guests, without ads, you have no exposure to anyone on Facebook the way that ads do.
What type of messages can I send?
Create an ad that promotes;
An event at your location with a direct call-to-action button to sign up or reserve a spot

A new menu

A special seasonal offering

An exclusive discount for return visitors
OPTION 1: DATA EXPORT
Wifi Marketing
With "WIFI Marketing", you collect an exhaustive customer base that you can easily export from out your dashboard. In order to export and then import your customer base into Facebook Business, follow the steps below:
Navigate to your Visitors tab via https://dashboard.soconnect.com/admin/visitors
Select your location from the dropdown menu. If you want to export all your visitors from all locations you manage because you are, for example, a franchise, keep the field empty.
Select the time range
Choose whether you want to export visitors of up to three months ago, or choose to retarget only people that have been at your location between 1 month and 1 week ago. Depending on your offering. Export all visitors to get a larger audience.
Select user type
To get the highest match rate, select Facebook only. If you want to include everyone, keep your field set to "any".
Download your visitors
Clikc the "Download" button. Select "Download Comma Seperated File" in the pop-up window. A .csv file named Export_YYYY-MM-DD will save to your computer.
Facebook
Enter your Facebook business manager and navigate to the Audiences tab.
Business Manager > All Tools > Assets > Audiences
Create an Audience with the Create Audience button . Select "Custom Audience" from the drop-down.
Select Customer File > Add Customers from your own data


Drag your exported file into the "Upload File" field, and give your import a recognizable name, such as "SO Connect Visitors - Location X - Between YYYY-MM-DD and Between YYYY-MM-DD".

Preview and map your identifiers
You don't need to map all fields from your file. Make sure the following fields are mapped:
First Name
Last Name
Email
Gender
Date Of Birth
City
Country
Your audience is now created, and you can immediately start creating an ad to target those visitors.
OPTION 2: Retargeting using Custom Landing Pages
Another way to employ facebook as a retargeting tool is by installing the Facebook Pixel onto your website.
Make sure the pixel is placed on the page you set as a landing page in your SO Connect account.
"WIFI Marketing"
Navigate to your Settings Page
Select "Social Media" from the top menu
Paste your Landing Page URL in the field. We suggest to create a page that has a URL that is specific for SO Connect. For example: www.restaurant.com/wifi-welcome
This way, you can retarget only those people that were directed to this site because they were physically at your location. Other customers browsing your website won't be retargeted by accident. No inner links to this page should occur, it should just serve a landing page for your visitors.
Facebook
Return to your Facebook business manager and navigate to the Audiences tab.
1. Business Manager > All Tools > Assets > Audiences
2. Create an Audience with the Create Audience button .
3. Select "Custom Audience" from the drop-down.
4. Select Website Traffic.
5. Inside the pup-up, select "All Website Visitors" and replace it with the "People who visited certain web pages" function.
6. Enter the part of the URL that is unique to "WIFI Marketing" visitors. In our example, this would be "wifi-welcome".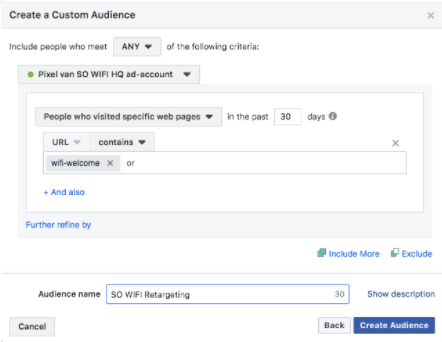 Create the audience


You will be able to retarget all of your visitors, even the anonymous ones that do not leave their contact details by logging in with Facebook or their email address.