In Network & Access you can control the settings of your guest network, its access but also it's bandwidth.
1.Device Manufacturer
In the Network part the first thing you'll see is the Device Manufacturer. This is where the type of device is selected.
2.Guest network
Here you control your guest network and enter a personal name for it i.e. your company name. This will be seen by everyone who logs in to your guest network. You can also select wether or not you'd like it to be password protected rather than let guests log in with social media.
Office network
Add an office network for you and your employees should you need one. Name it and choose a password for it.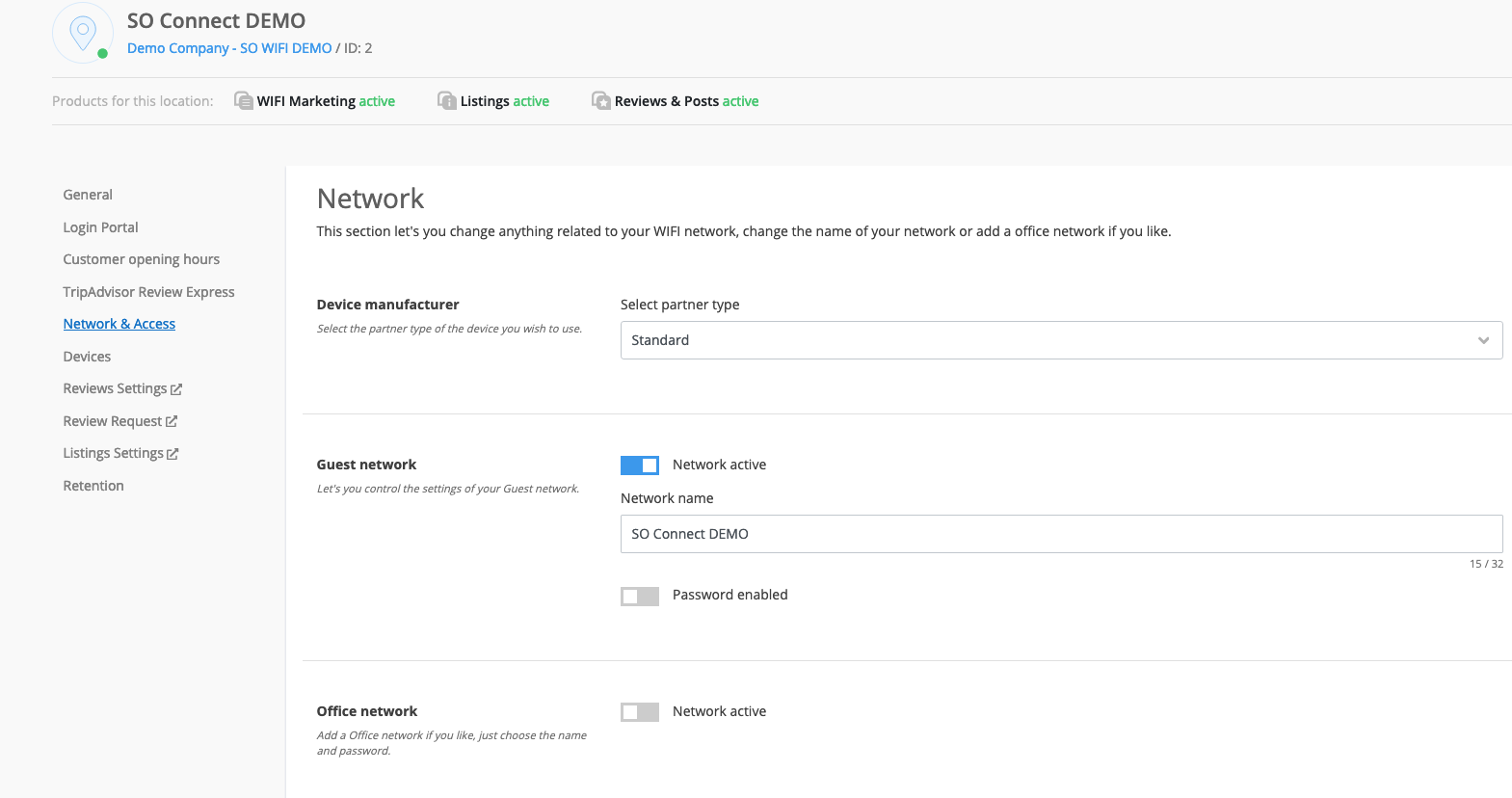 Access
Select how long you want users to access the WIFI network and how much bandwidth they can use.
1. Unrestricted Access
Set how long the network can be used; and how long does a user need to wait to log in again after disconnecting from the network.
2. Global bandwidth
Set the total amount of bandwidth available for your Guest network. Simply slide to adjust.
3. Session bandwidth
Set the bandwidth per WIFI user.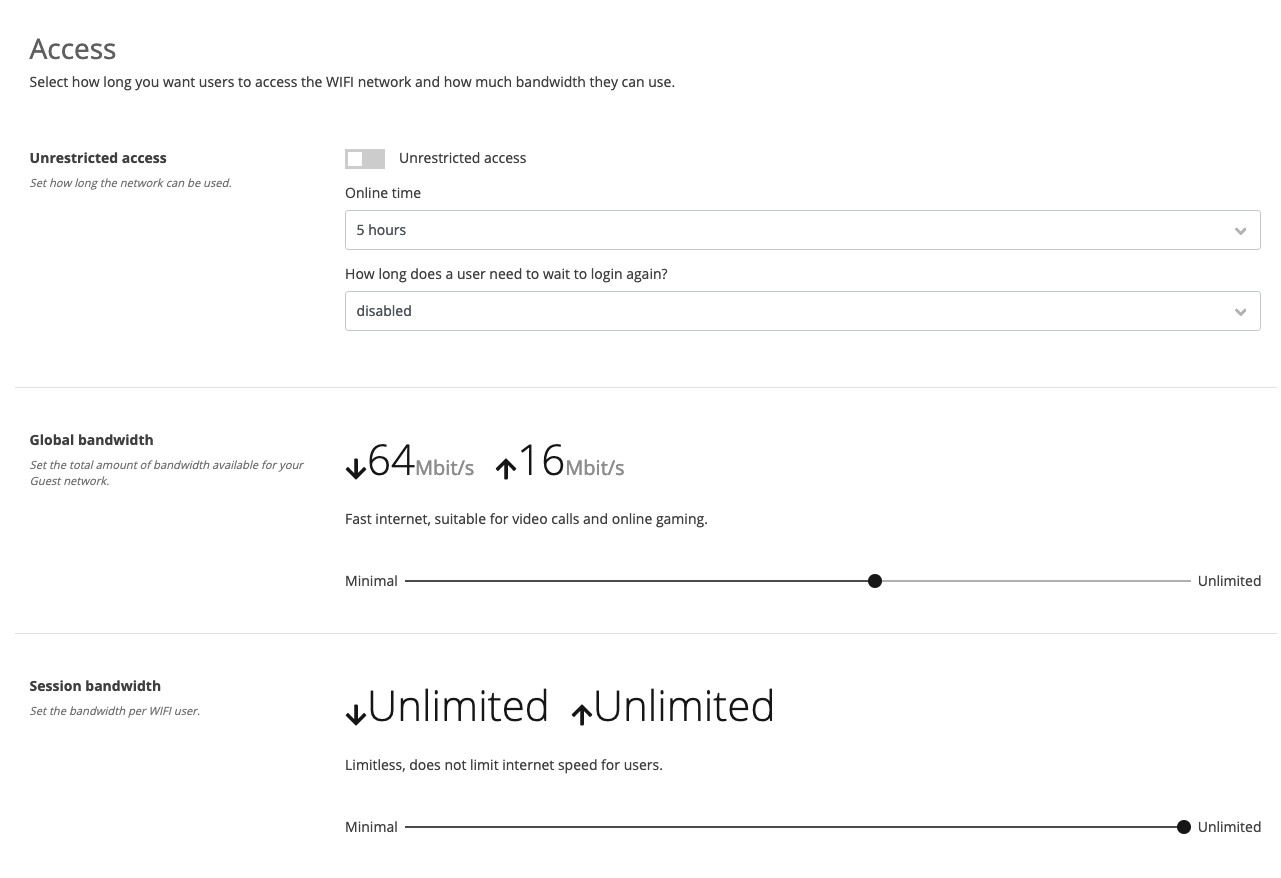 Advanced settings
1. Global network
Add a the Global network in order to create more WIFI logins. This will add another WIFI network with the name "FREE WIFI" in your location.
The beauty of it is that all of the SO Connect Hotspots (20K and counting) have this feature enabled by default, this means we have created one big FREE WIFI network. Once a WIFI user has been logged in to the FREE WIFI network in one location, it will automatically pop-up as a notification in the next location that offers this Global network. Doing so, it will generate more WIFI logins for your location.
Rest assured the WIFI login portal is yours, we just create a duplicate WIFI network name. This means the look and feel, login and collected data are all shown as how you have set it up under Login Portal.
2. Wifi channel
If you're experiencing interference issues, please change your Wi-Fi channel. Leave on auto as a standard-setting when not experiencing issues. Certain channels like 1, 6 and 11 yield better WiFi performance than others because they are non-overlapping. Many routers are set up to automatically choose what WiFi channel to use; and they may not choose 1, 6, or 11. The WiFi channel your router chooses actually depends on the hardware itself.
3. Network over WAN
Set network over WAN if necessary. Use the WAN connection for the communication between hotspots and extenders. This way the SO Connect network can make use of existing cabling and switches.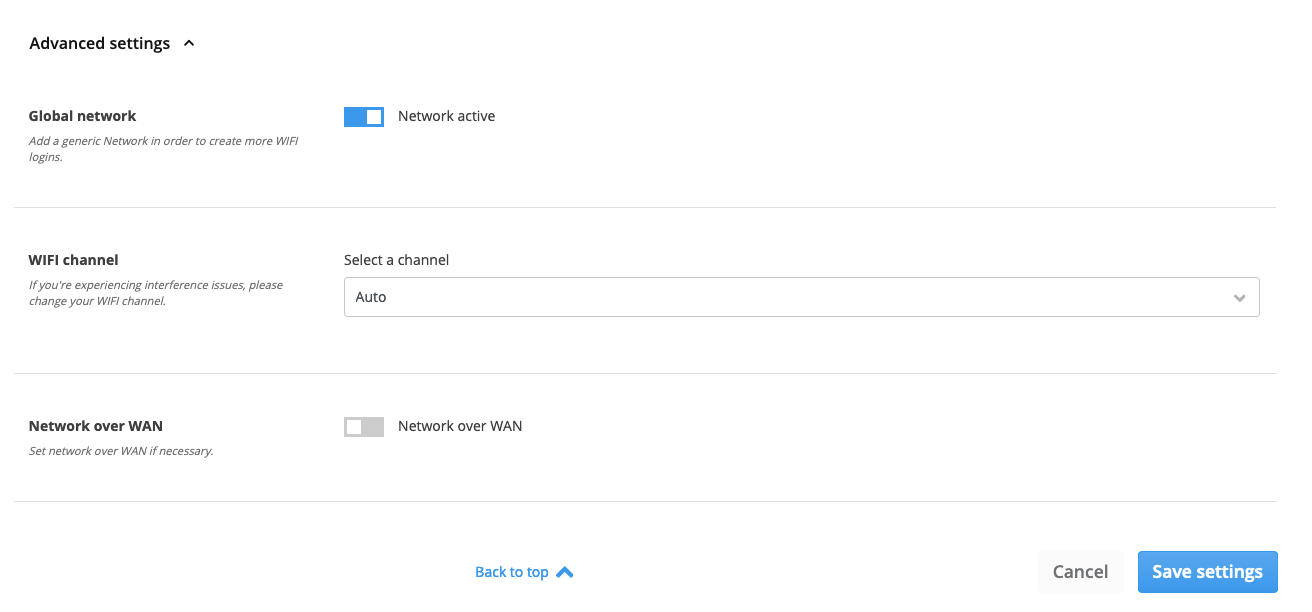 * When you are done changing your settings don't forget to click on "Save settings".