Please follow the steps as described here to enable SO Connect at your location.
1. Check if your existing Internet connection is working properly.
2. Place the Hotspot in your visitors area.
In the centre of the room.
As high as possible with the antennas pointed upwards.
Don't place behind a thick wall or pillar, near metal walls or on a metal cabinet.
Keep at least 3 m away from: microwave, oven, wireless telephone, Bluetooth devices and/or other routers.
If necessary, use a longer network cable. We will provide a longer network cable on request.
3. Connect plugs.
Connect the SO Connect Hotspot (WAN/blue) to your own modem or switch (LAN or Ethernet/usually yellow) by means of the network cable.
Plug in the Hotspot using the power-adapter and make sure that the Hotspot is turned on, by checking the 'Power' light on the front and the 'On/Off' button at the backside of the Hotspot.
Check if the network cable is connected properly by making sure that the 'Network cable connected' light is turned on or blinking.
4. Testing the WiFi signal.
Check if the 2.4G and 5G WiFi enabled indicators are turned on.
Now make sure that the 'Router is online' light is turned on. If this is not the case, please press the 'Lock' button once next to the indicator and wait 1 minute for the Hotspot to establish an internet connection.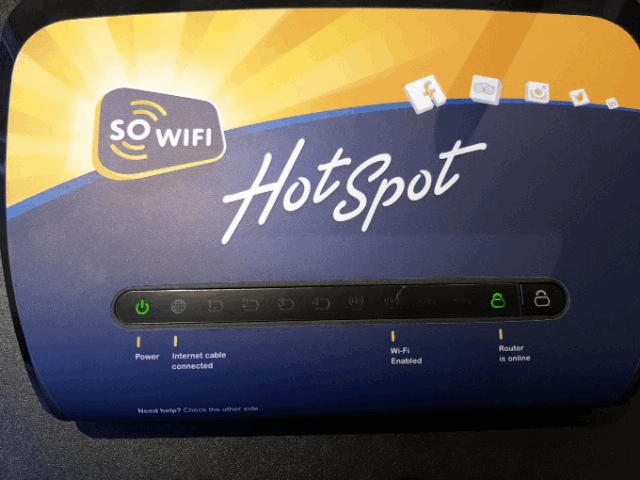 5. Test the connection in various places in your room.
Use your own laptop or smartphone, for instance.
If you do not have a connection in all important places, consider placing the SO Connect Hotspot someplace else.
If you do not have enough coverage on a terrace or in a second room, then we advise you to expand your package with a SO Connect Extender or with a SO Connect Outdoor Extender.
Read more: How to connect and setup your SO Connect Extender wirelessly