Hereby a short guide to onboard Listings properly. It's important that the fields are intrepid correctly, since this will greatly influence the findability score.
Search for your location
You can simply look-up your location in the Listings configurator. The system is powered by Google, therefore it's important to use the same nam and city as listed in Google.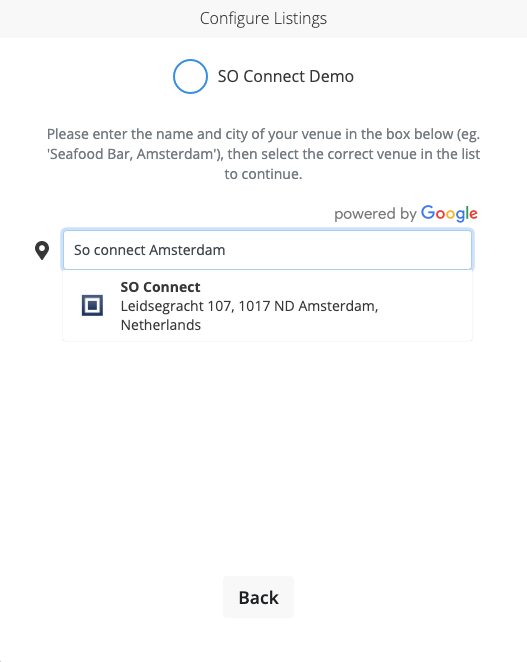 Confirm your location
Once you have found your location, please check if it's the correct one. If so, please confirm. If not repeat steps by going back.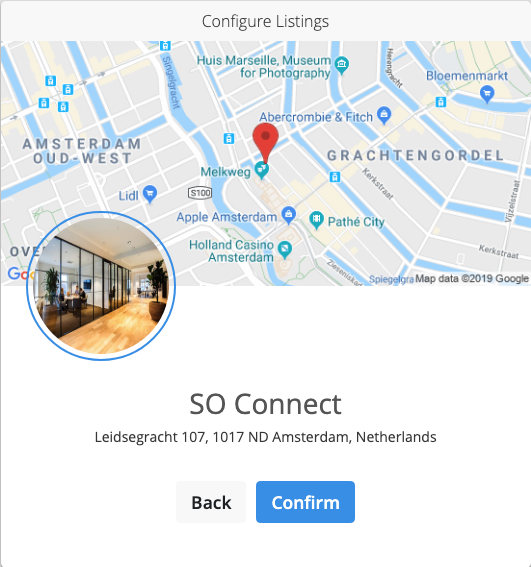 Step 1: Company Details
Listings tries to pre-fill most information. Please check the pre-filled data carefully. Add the missing information:
Location Name: Fill in your exact name, this is also case sensitive.
Address: Fill in the exact address of the location.
Postal code: Fill in the exact postal code, be precise also with adding a space yes or no.
City: City of your location.
Country: Country of your location.
Telephone number: Telephone number potential visitors can reach you. Always add the country code.
Email address: Add the email address where people can reach you.
Website: Website of your location or brand.
Languages: Which languages are spoken by the employees in the locations.
Primary category: Which category describes your location best. Please pick this Primary category carefully as it will greatly influence your search results.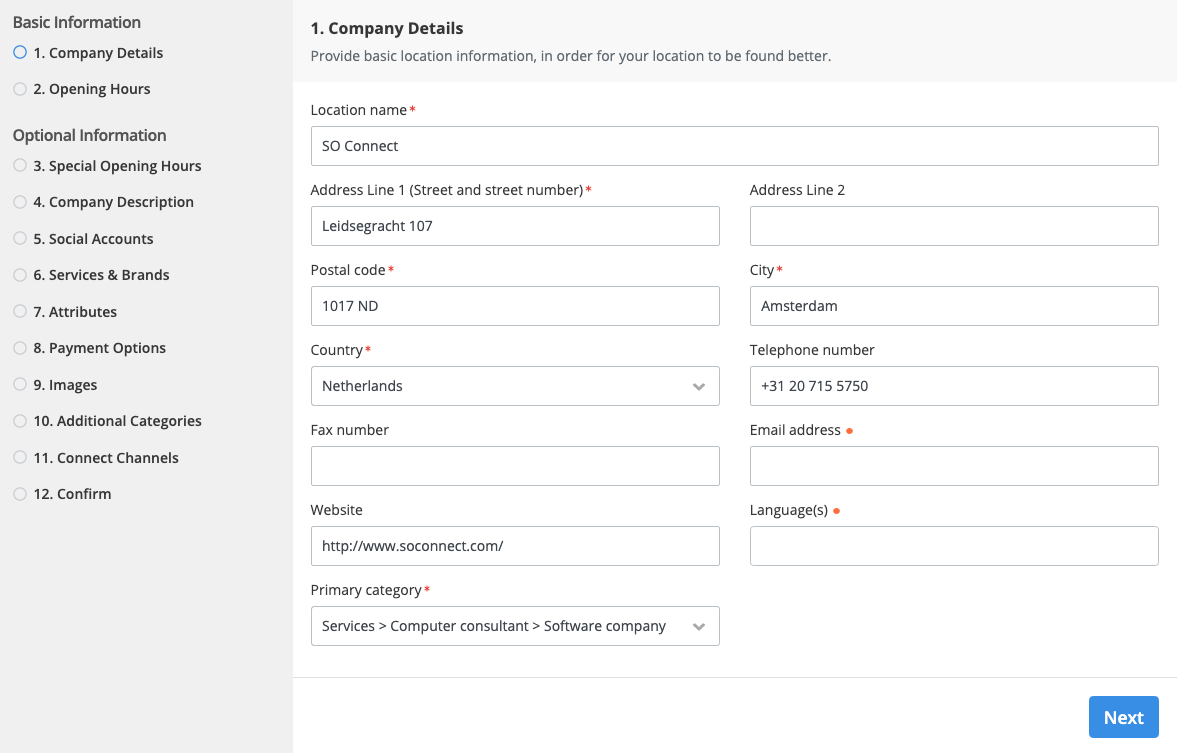 Step 2: Opening hours
Listings tries to pre-fill most information based on your Google location. However, here you can simply edit, remove or add opening hours.
By clicking on Add hours, you can add multiple opening hours per day. This is relevant whenever you close during the day and re-open (i.e. Siesta).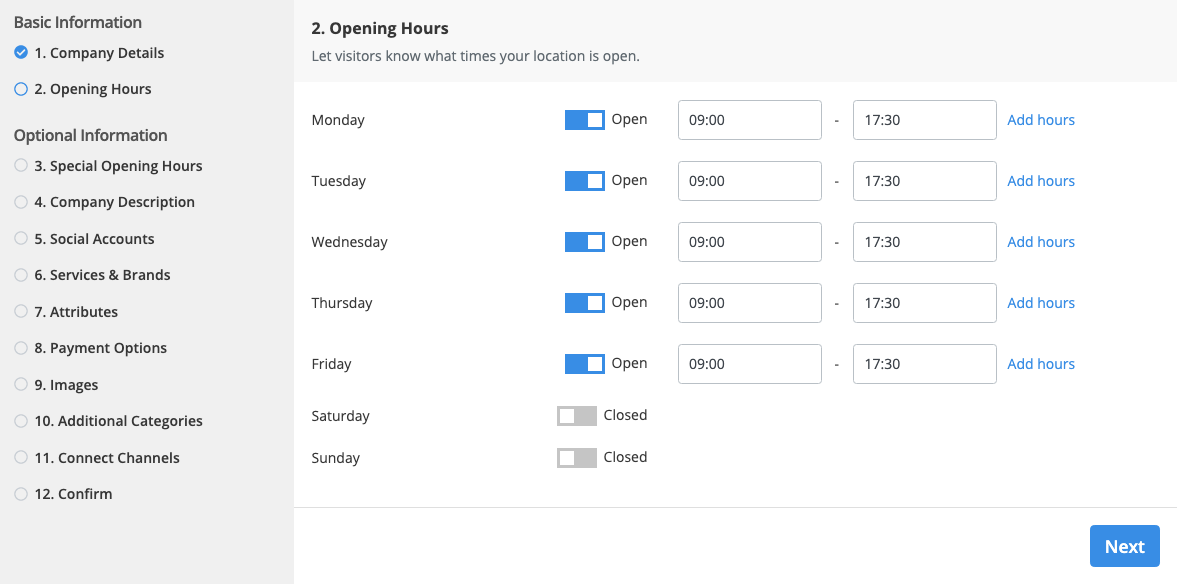 Step 3: Special opening hours
Please add deviating opening hours on special days. Examples of special days are public holidays such as Christmas, Easter and other relevant days. You can simply select the date, then select if you're open and which hours. You can also select that you're closed that specific date.
You can add as many special opening hours as you want.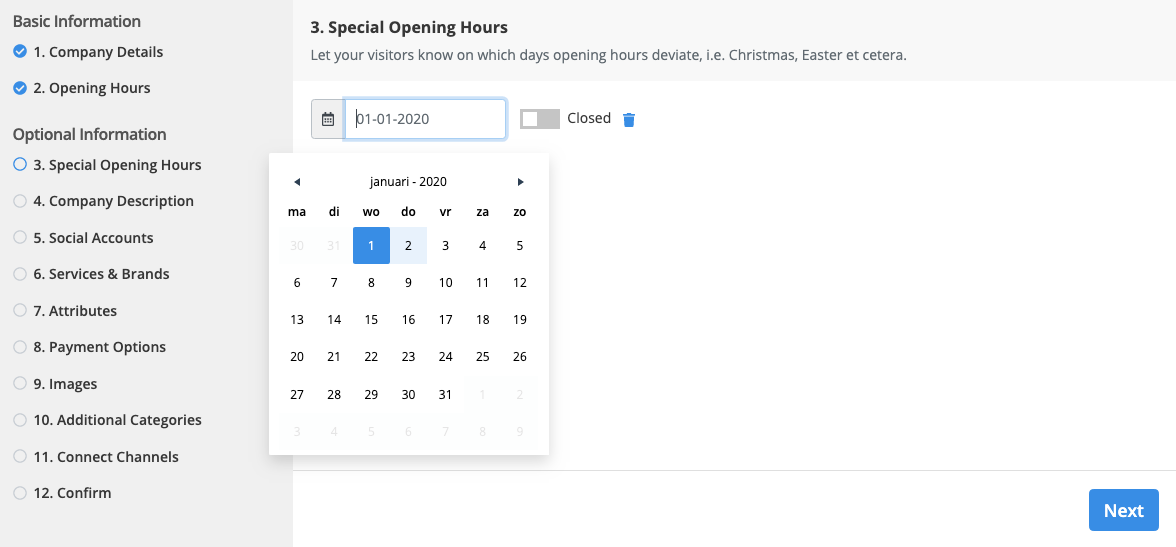 Step 4: Company Description
It's important to write a description about your business/location. This gives more substance to a local search result, it makes sure the location is be found better and adds to the overall online search experience.
Platforms either accept keywords a short and/or long description. Keywords describe your business, just hit enter to separate keywords.
The short description is limited to a maximum of 200 characters. The long description is limited to 1000 characters.
Please take the time to write a compelling description.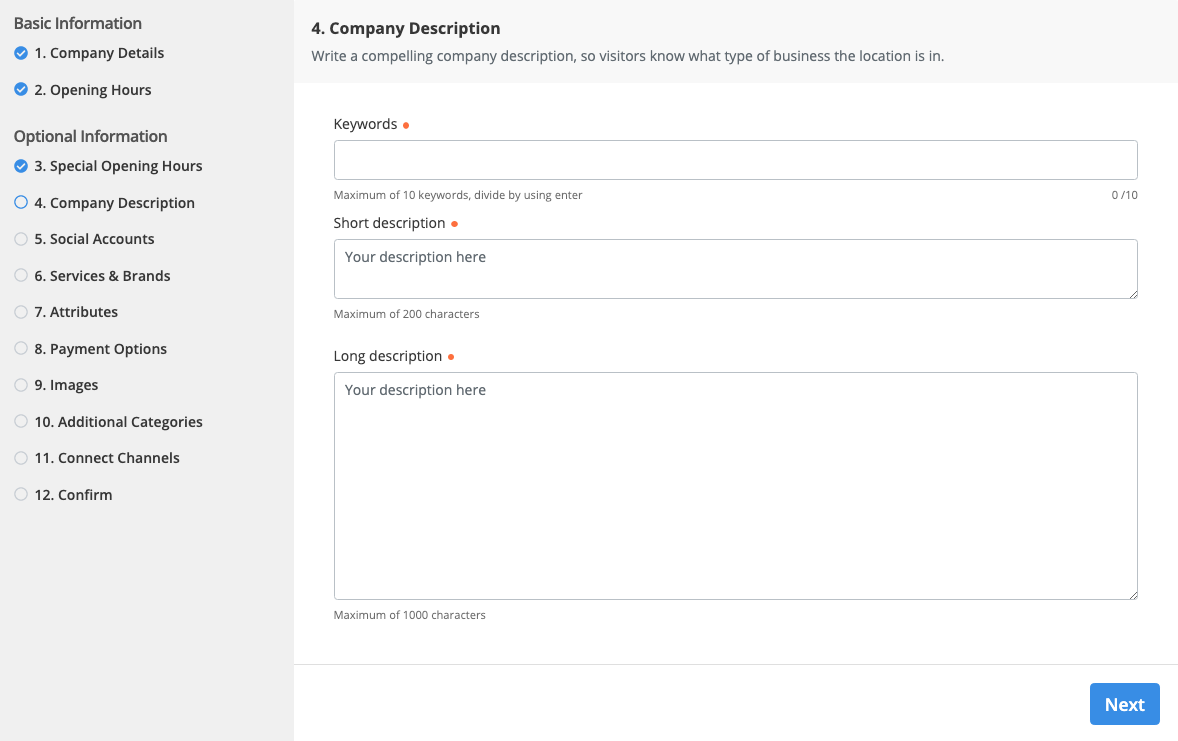 Step 5: Social accounts
Add you social accounts. SO Connect tries to upload the social channels to the various directories. Put your brand out there!
Please make sure to start your URL with: https://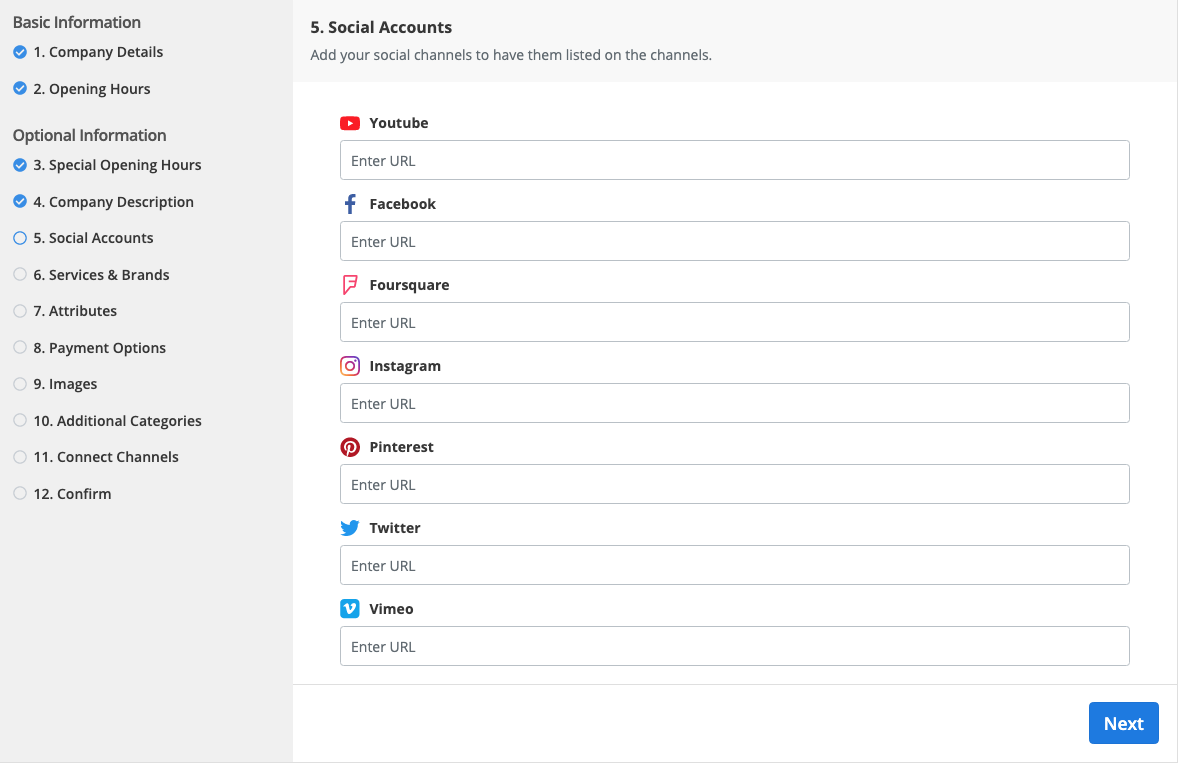 Step 6: Services & Brands
Inform your visitors about services offered at the location. You can think of wheelchair accessible, terrace, smokers lounge, phone chargers, (valet) parking et cetera.
You may also include Brands that are offered at the location. Think of BMW, Mercedes, Nespresso, Illy Coffee, Armani, among others.
You can add as many keywords as you wish.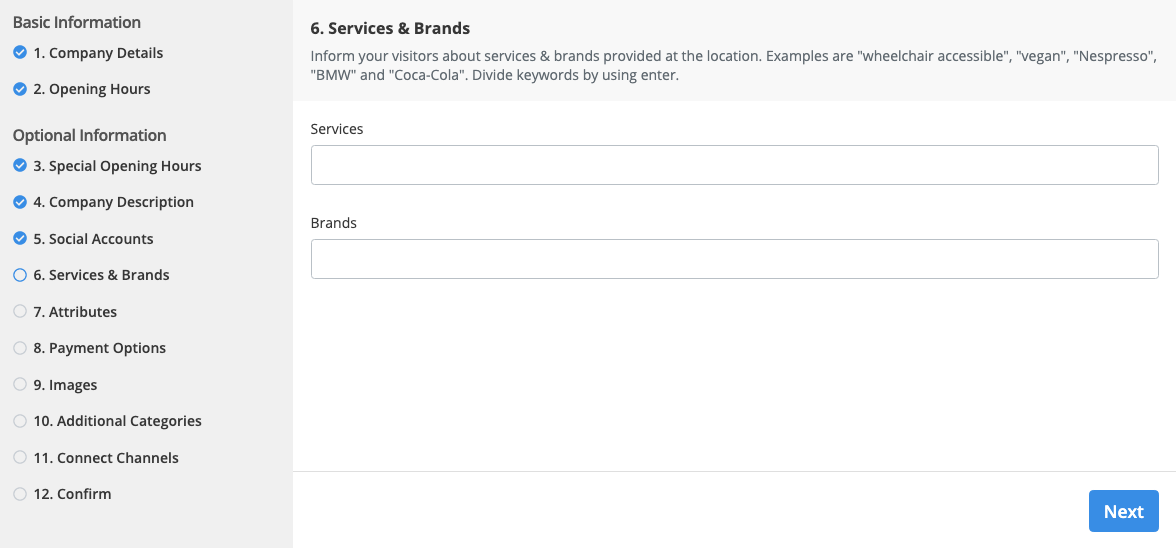 Step 7: Attributes
Attributes let customers see what your business has to offer, such as whether a restaurant offers Wi-Fi or outdoor seating, or if your business is women-led. Adding relevant, accurate attributes to your Business Profile helps you stand out to your customers that find your business on Google.
Attributes are different for each set primary category. Once you change the primary category, your attributes will be reset.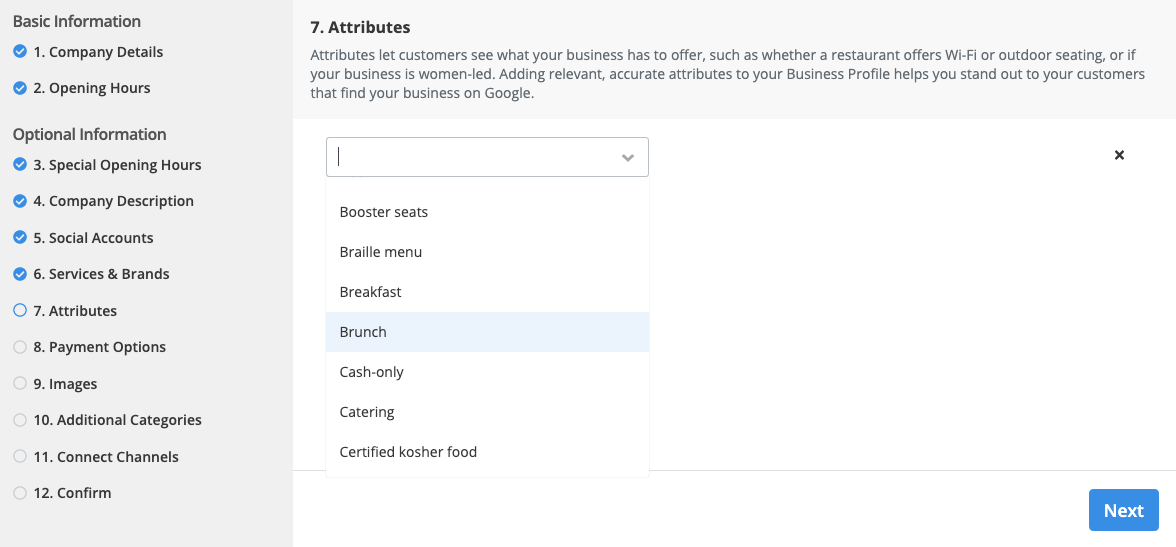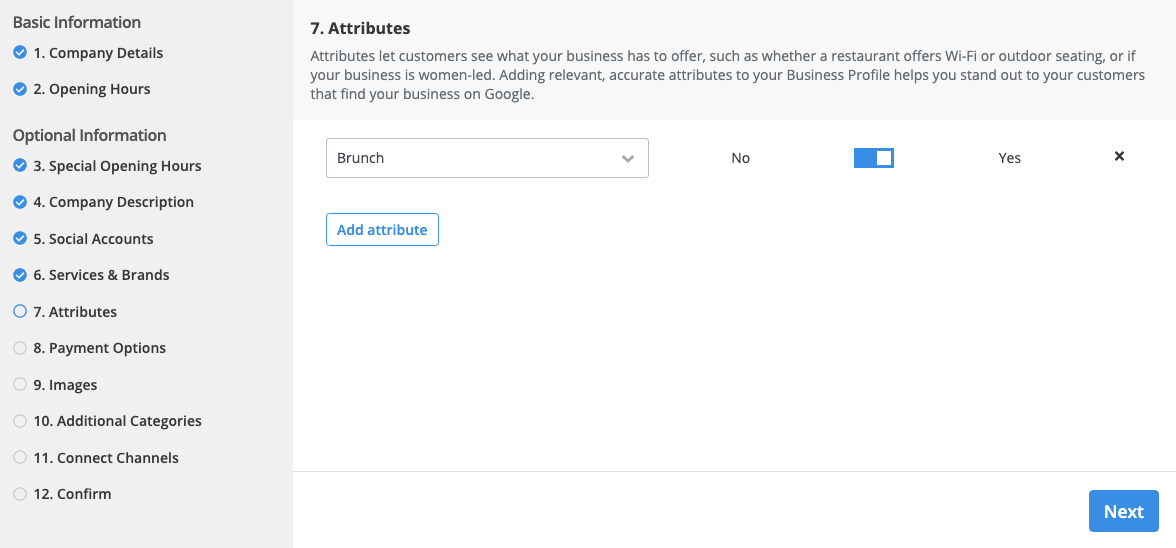 Step 8: Payment options
What payment options are accepted at the location? Help your customers plan their visit. You can select as many payment types as you offer. Simply type and search for the payment options offered by your locations.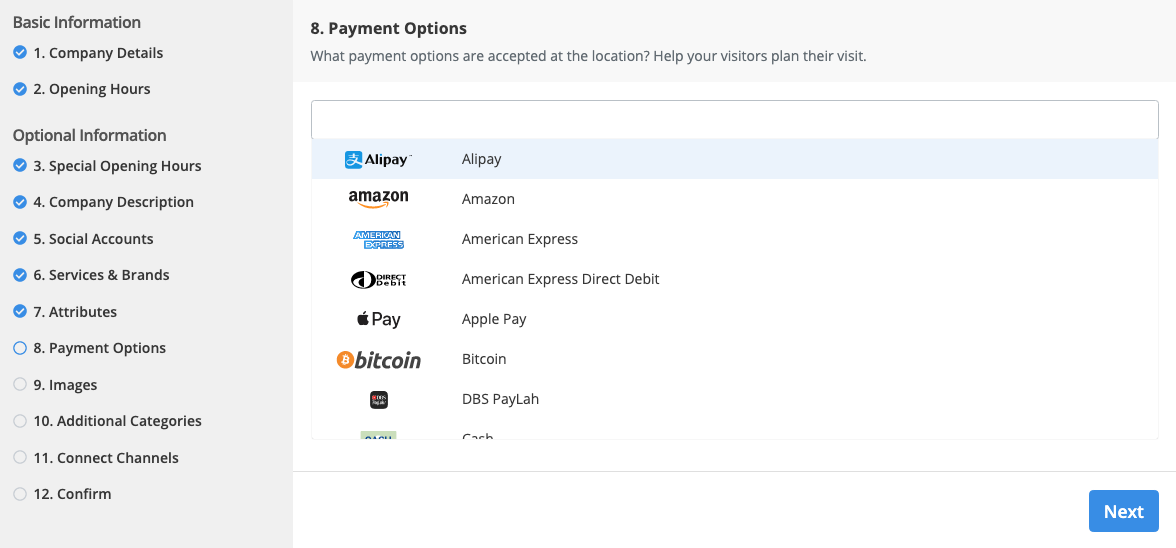 Step 9: Images
Add engaging images for you location. Each type of image has it's own purpose, which is described below:
Logo: This logo will be used to send to different Channels.
Squared logo: This logo is specifically for Facebook and used for Listings(internally).
Main Photo: First photo shown on your Google My business Page (uploaded by owner).
Landscape photo: This image is specifically for Facebook and Fourquare.
Other photo's: Photo's that give a good image of your location, these can include photo's of the interior, exterior, dishes, products et cetera and are shared on your Google My Business among other platforms that accept multiple photo's.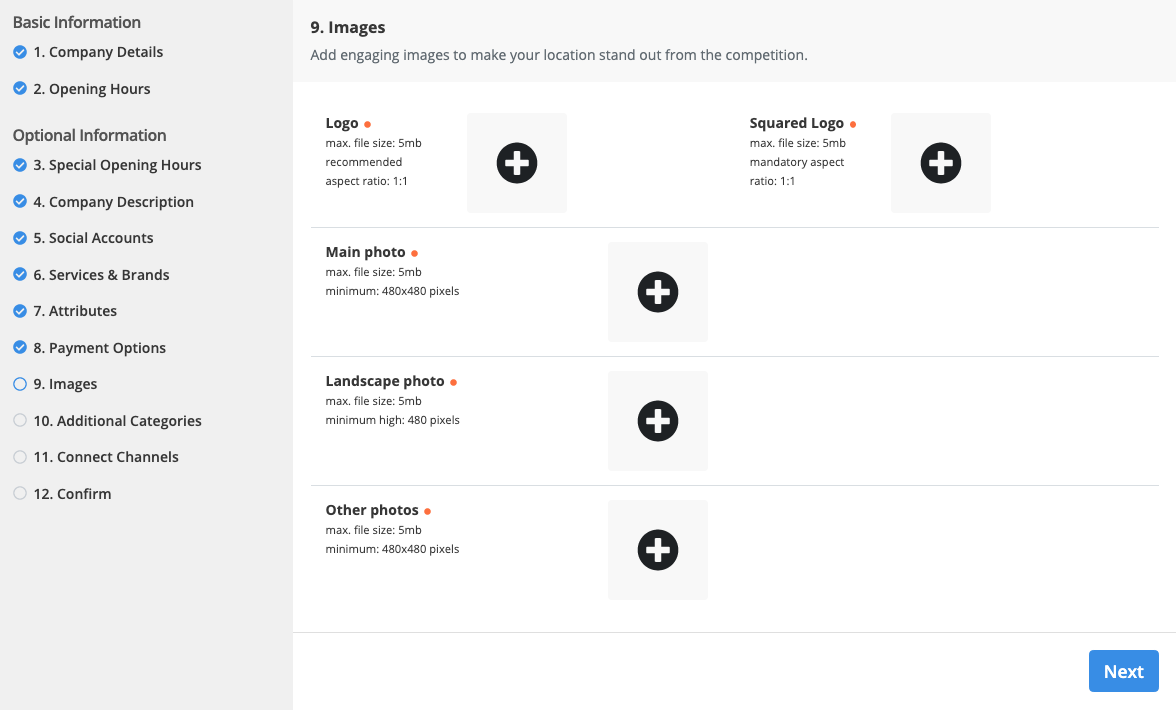 Step 10: Additional Categories
In order to make sure the location is found in related searched we made sure that a location can be added to 4 more additional categories. The Primary category is most important however, the additional categories will make sure the location is found more often and will result in more location visits.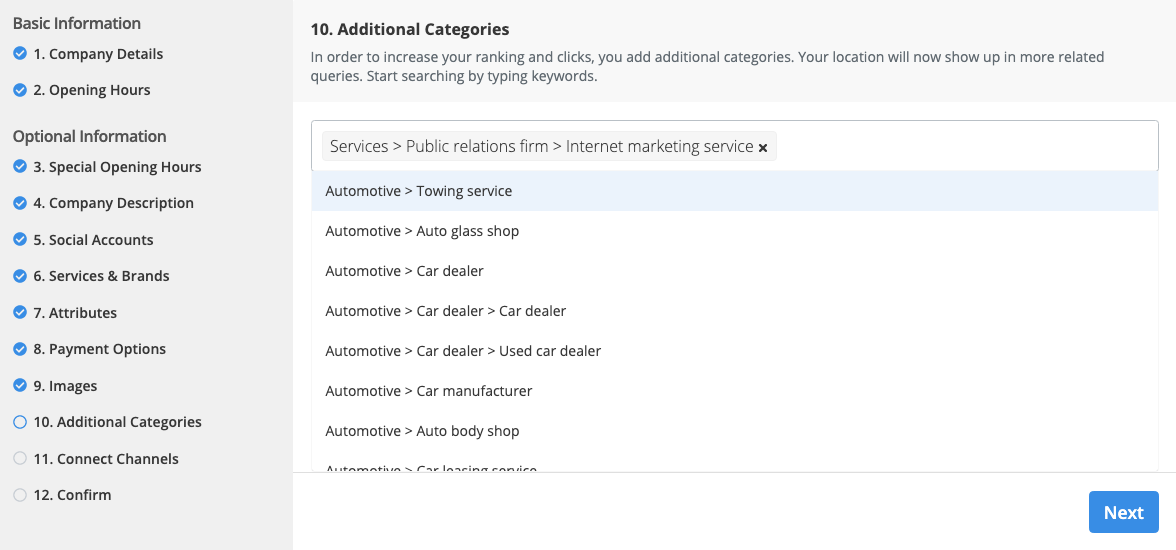 Step 11: Connect Channels
Some channels need verification in order for the data to be synced. Google and Facebook are channels that need verification. Simply click on the connect button, make sure to login with the account that is connected to the Google My Business Account and Facebook Business Page.
Click accept and you're done.
If the location is not yet been verified by Google before, it might be the case that Google will contact you to verify your location.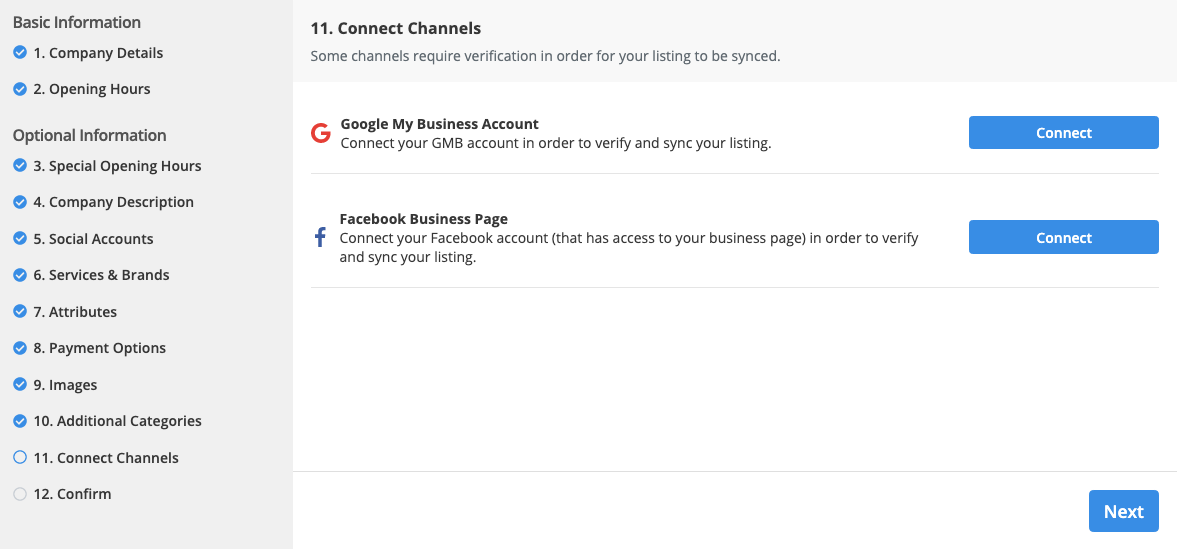 Step 12: Confirm
Click Save & sync whenever you are ready to sync your business listing. You can also sync now and re-sync once you update along the way. Save your information whenever you want to add or update more information later.